Next Level Performance
We partner with CEOs and top teams to set direction, get people moving to implement change, and build capacity to boost performance.
The enduring fundamentals—smart strategy, effective team work, and the right skills and structures—are always important. Traditionally, these have comprised the majority of our work, which always begins with "top-team alignment."
More and more, in the face of rapid and continuous market shifts, interconnected stakeholders, and competing priorities, organizations are looking to go beyond the fundamentals to add the next level of performance improvement.
For these clients, we offer practical tools for creating new business models, expanding the boundaries of collaboration, and increasing organizational agility. The benefits of this approach can bolster every aspect of the business, as outlined in the graphic below.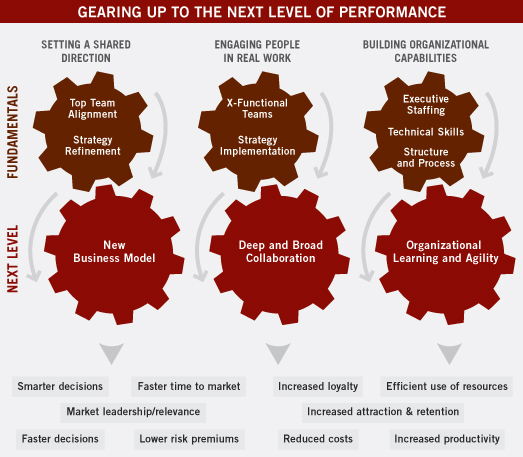 Next-level strategy requires an understanding of how success formulas eventually lead to failure, disrupting organizational "lock-in," and creating the "white space" in which innovation can then flourish.
In today's highly interconnected world, next-level collaboration requires teams to work with expanded networks and broader systems, engaging in systems thinking and large-scale group processes.
In a complex and rapidly changing marketplace, successful organizations must learn and adapt quickly. We work with clients to "up-shift" to the next level of organizational agility through leadership development, action-learning, integrative decision making, and dynamic steering.
We screen our clients
We're selective about who we work with because we've learned that in order to be successful, organizational change must be initiated and led from the top by executives who are committed not just to setting direction but to doing what it takes to make the changes stick.
We work with CEOs, division presidents, and NGO executive directors who:
Have an urgent and compelling change agenda
Are sensitive to people issues and open to feedback
Are ready to set a date for a 1.5- to 2-day event to build alignment and accountability with the top team.
Why engage with us?
You may benefit by engaging with us if you:
Are a new CEO and/or have a new team and want to align around what's most important.
Need to increase trust and candor with your team so that you can address performance challenges in a productive and proactive way rather than reactive.
Have just completed a significant strategy effort and are feeling challenged by implementation.
Know you need to transform the whole system—from strategy and operations, to staffing, structure, and culture—and you're not sure where to begin.
Want to influence change in your supply chain or industry.
Our clients choose us because:
Tom Curren, our president and founder, is experienced, with a proven track record of producing major and lasting results.
Our team excels at integrating strategy with organization development.
We are thorough—we work all the leverage points in a system, addressing everything that affects performance.
We adapt quickly to changing circumstances.
Our guiding principles
IMPACT—We find ways to improve organizations that are doing good things.
HOLISM —We pay attention to everything that matters.
APPRECIATION—We look for and amplify what's already working.
FUN—We have fun doing serious work.
INTEGRITY—We live our values and learn from our mistakes.